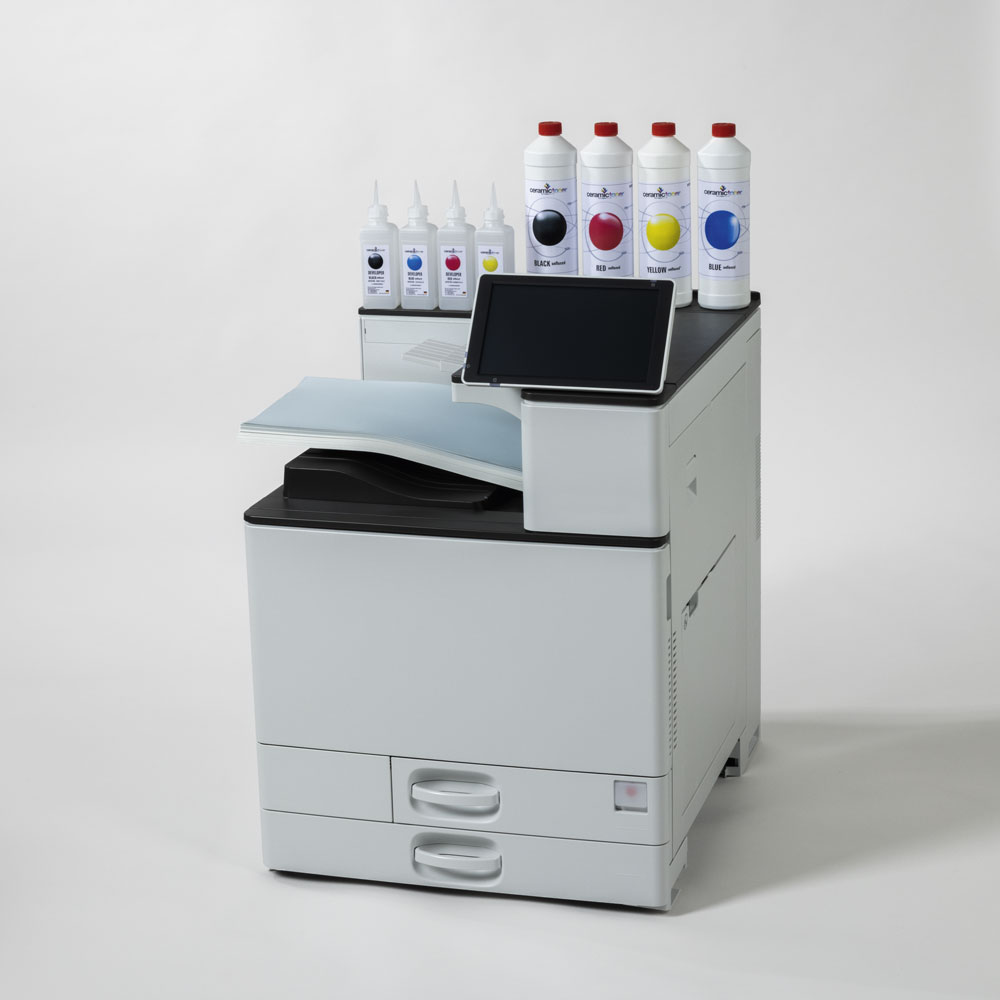 Ceramic Decal Printer SRA3 –
Ricoh SRA3
Reliable laser colour printer for ceramic decals
For paper sizes up to 450 x 320 mm
1200 dpi resolution (interpolated up to 9500 dpi)
Contact us for a non-binding quote or for test prints.
Reliable laser colour printer for ceramic decals
The Ricoh SRA3 has an intensive colour output. The printed decals are highly stable and easy to handle. Overall, the laser printer produces a high colour quality while using a low amount of toner.
The Ricoh SRA3 prints on paper sizes up to 320 x 450 mm and on sheets with a maximum length of 1.260 mm. The resolution of the ceramic prints is 1200 dpi (interpolated up to 9600 dpi).
This printer is available in 8 different accessory combinations. Contact us to find the perfect package for your requirements.
Technology
Laser
Color/B&W
Color
Printing Process
Electro-photographic printing
Toner Type
Dry, single component
Print Resolution
up to 1.200 x 1.200 dpi
Supported Paper Sizes Paper
Standard paper tray(s) (SRA3, A3, A4, A5, A6, B4, B5, B6),
Bypass tray (A3, A4, A5, A6, B4, B5, B6, SRA3, C5, C6)
Dimensions (W x D x H)
587 x 685 x 864 mm
Weight
85 kg
Power Consumption (Operating)
1.850 W
Power Consumption (Sleep Mode)
Less than 0.81 W
Typical Electricity Consumption (TEC)
TEC (Typical Electricity Consumption)*: 0.55/0.8 kWh
Power Requirements
220 – 240 V, 50/60 Hz
ENERGY STAR
Certified
EPEAT
Gold Rated
Supported Operating Systems
Windows® 7, Windows® 8.1,
Windows® 10, Windows® Server
2008, Windows® Server 2008R2,
Windows® Server 2012, Windows®
Server 2012R2
Macintosh OS X v10.8 or later
ceramictoner – Contact our Team for your individual project.