Printing service for large format decals
Benefit from our customised solutions in the area of ceramic digital printing and purchase your decorative prints directly from the toner manufacturer. Our well-founded expert knowledge on ceramic printing systems and toners ensures that you receive reliable decals every time. Expand your manufacturing options now with high-quality prints. The Ceramic Decal Printer 5C production machine is an in-house development from mz Toner Technologies GmbH & Co. KG.
Areas of application
Suitable for firing and subsequently for indoor and outdoor use
Design of public spaces, train stations, underground stations, tourist signs, orientation systems, public art
Substrates: lava rock, glass, ceramic or enamelled materials
Properties
Large format with a width of 900 mm (35.43″)
Endless length (printing on rolls)
Resolution of digital prints with 600 dpi
Colour space: own toner manufacturing for ceramic prints allows for a large number of colours ceramictoner offer true red in ceramics.
Output volume: 250 square metres of ceramic printing area per hour
Durability
We offer designers and architects the opportunity to implement designs on large areas. The large format prints are available with a currently unrivalled resolution and image quality. For durable, long lasting decorative prints from print runs of just one copy.
Our large format prints are sold to enamel manufacturers, glass processors and manufacturers of large stoneware slabs, allowing them to expand their manufacturing options. Customised ceramic surfaces combine a high-quality appearance with practical advantages and long term objectives. The ceramic laser prints are fired, preventing the panels from being bleached by the sun. Even graffiti can easily be removed from the highly resistant ceramic toner.
With several imaging units, we delivery your large format prints for appealing ceramic surfaces with print runs from just one to over 1,000. This is enhanced by an incredibly fast production speed.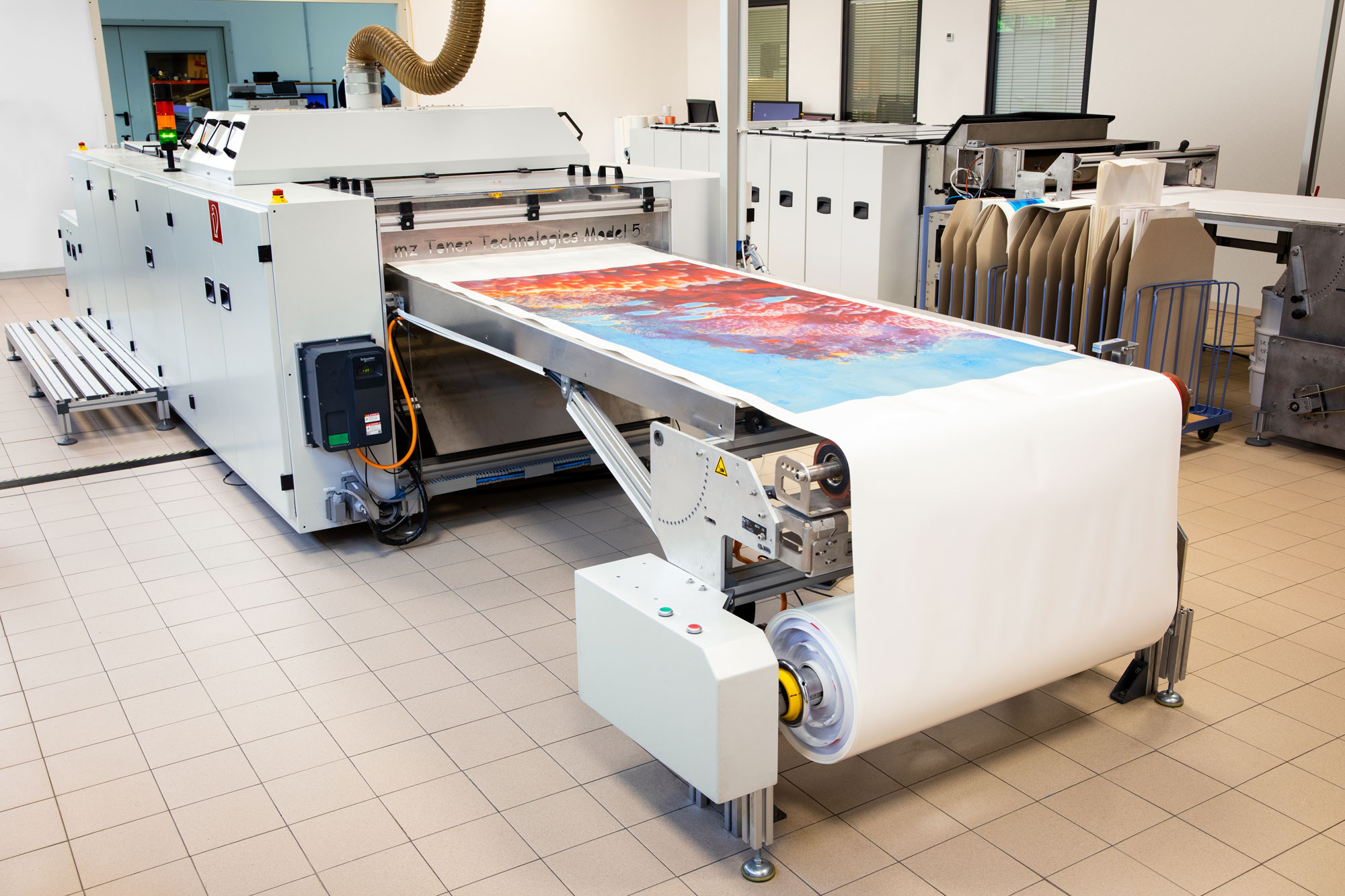 The decorative prints are suitable for use on different substrates: glass panes, enamel plates or ceramic. The decals can also be easily applied to curved surfaces or in material recesses. This is particularly relevant to the design of profiled glass, including on buildings. The ceramic decals can also be applied around the edges of thick lava stones or extruded hollow chamber panels, creating a perfect material edge.
If you have any questions or would like a quote: Our multilingual teams can help: Email, phone: +49 681 94 55 33 44
Print service for your large format decals – get advice now!